Shelter Dog Loses It When He Sees Someone's Donated Hundreds Of His Favorite Toy!
Ribeye, a rescue dog, has been living at the Spartanburg Humane Society for a year. With the shelter's environment sometimes overwhelming for him, Ribeye finds comfort in playing with his favorite toy, tennis balls. When Rubber Rescue saw a video of Ribeye playing with a huge tennis ball, they decided to make a donation. They sent 200 tennis balls addressed to Ribeye.
The animal care technician and adoption counselor, Sam Clutter, brought Ribeye to the shelter's yard, where a baby pool had been prepared to catch all the new toys. Clutter opened the boxes and the bright green tennis balls started bouncing around the yard. Ribeye was shocked and delighted to see so many toys surrounding him, and he ran around the yard with overwhelming happiness.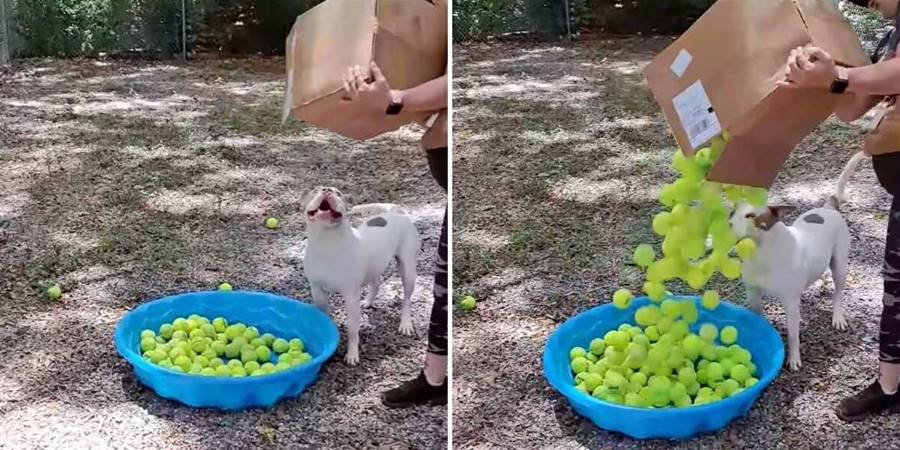 Clutter was overjoyed to see Ribeye's reaction. She is grateful that the shelter dogs have these donated tennis balls to play with. However, she hopes that Ribeye will soon find his forever home and have his own toys. Clutter describes Ribeye as the sweetest, most loving, and playful dog who would love to have his own toy box filled with all the toys he can imagine.
Despite being sad to see him go, Clutter eagerly looks forward to the day Ribeye finds his perfect match. She hopes that Ribeye will join a family who is excited to give him all the care he needs. He would love to go on outdoor adventures and trips with his future family and would play with them all day. At the end of the day, Ribeye would love to snuggle up and relax. If anyone is interested in adopting Ribeye, they can call the Spartanburg Humane Society to arrange a meeting. Additionally, donations to the society can help other dogs like Ribeye.