Cinder and Bridger McPurr are siblings, one a dog and the other a cat, who have developed a strong bond and love for each other. They are part of Mojo's Hope, a rescue group in Alaska. Cinder, the dog, was found in the woods and lacked socialization and trust. After receiving care at a shelter, she was transferred to Mojo's Hope, where she thrived and became a nurturing and compassionate pet. Cinder became a mentor and provided love and care to other rescues in the program.
In July 2022, Bridger, a kitten, was found outside in the cold and was unable to move his legs. He was brought to a shelter and received emergency medical care. Although his legs still didn't function properly, his spirit remained high. Bridger joined Mojo's Hope as a foster and immediately showed affection and love for his new family. Shannon Basner, owner of Mojo's Hope, noticed Bridger's love for cuddles and decided to introduce him to Cinder.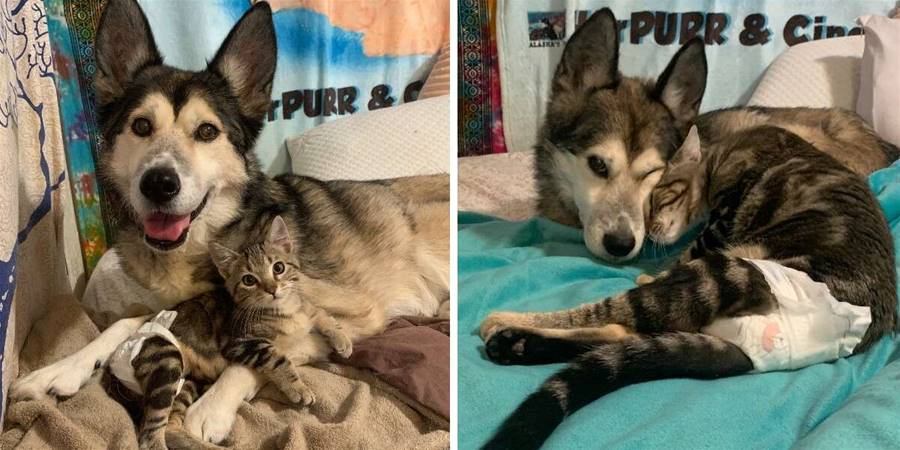 Although Cinder was initially cautious due to Bridger's fragility, the two quickly connected and fell in love. Bridger would snuggle and paw gently at Cinder's face while purring loudly. Their loving bond is described as precious and beautiful. While Cinder is a permanent resident of Mojo's Hope, Bridger is still searching for a forever home. However, Mojo's Hope is in no rush to say goodbye to the affectionate cat and will continue to provide him with love and care. They hope to find Bridger a wonderful home but assure that he will always be a member of their family. To follow the heartwarming stories of Mojo's Hope, you can find them on Instagram.