Impossible!!! 5 Unknown Facts Between MALE And FEMALE Cardinals Revealed!

Northern Cardinals are some of the most striking songbirds in all of North America. These cheery mid-sized birds have many unique traits, one of which is their bright coloring that differs by sex. In this article we will look at male vs female cardinals and find out what other differences they may have from each other.
5 DIFFERENCES BETWEEN MALE VS FEMALE CARDINALS
From behavior to song, male and female Cardinals have many different traits that make them unique. 
This article discusses the general behaviors and appearances of the male and female cardinal. We also identify five fun facts about the differences between the sexes. 
First, let's look at what are the main characteristics are of each sex, and how that affects the way they act. 
1. MALES ARE BRIGHT RED 
Only males are bright red. From their head to the tip of their tail, these songbirds have scarlet feathers. The only exception is a dark black chin patch and mask around the beak and eyes. 
Females have a little red on them, but they have evolved to blend into environments, not stand out.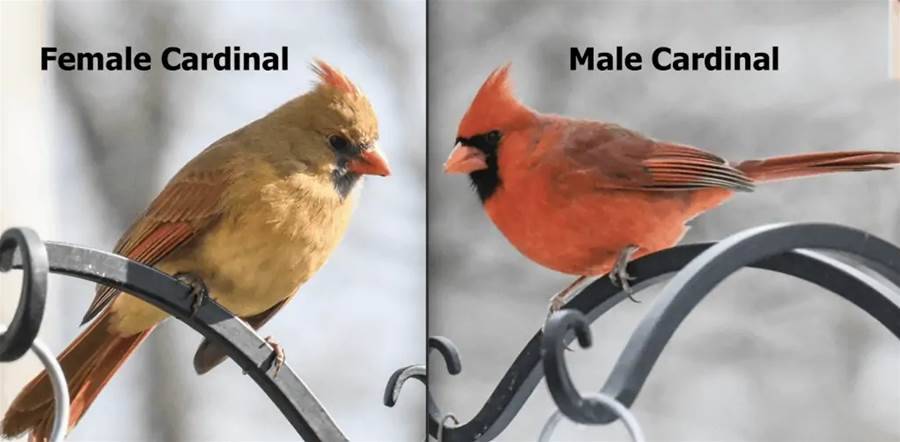 2. MALES SING LOUDER AND CHIRP MORE FREQUENTLY 
The male Cardinal's song is particularly loud and insistent in the spring, when squabbles over territory are common and every male must be vigilant for intruders that might steal a female away from him. 
To let his competition know that he's there – and to clue females in on his availability – the male Cardinal chirps loudly.
3. FEMALES' CRESTS ARE SMALLER THAN MALES'
Cardinals are sexually dimorphic, meaning that males and females look different, even though they are the same species. Females have a silhouette similar to males; but their crest is smaller, their feathers are more subdued, and they may be slightly smaller in size.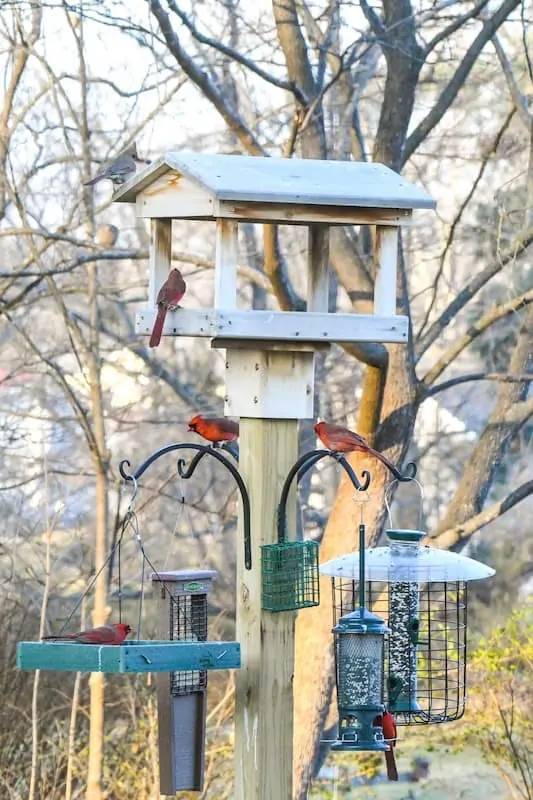 4. MALE CARDINALS ARE MORE TERRITORIAL THAN FEMALES 
While both males and females are known to defend their territory and nests from competitors and predators, males are by far the most territorial. In the spring, males stake out a territory and sing to alert other males that it's a no-fly zone. 
Females also rely on males to protect them when they are incubating a nest.
5. FEMALES ARE THE ONLY NEST-BUILDERS. 
Males trail after their mate when she selects a nest site in his territory. He leaves the task of building the nest building up to her, since she is the one that incubates the eggs. However, he brings his mate sticks, which she incorporates into the grand design. He may even stop by just to observe while she is building.