Cat With Facial Deformity Rescued - & Restored to Health — Catcuddles London Cat Sanctuary
Update: Hodge has now been adopted and is settling in to his forever home.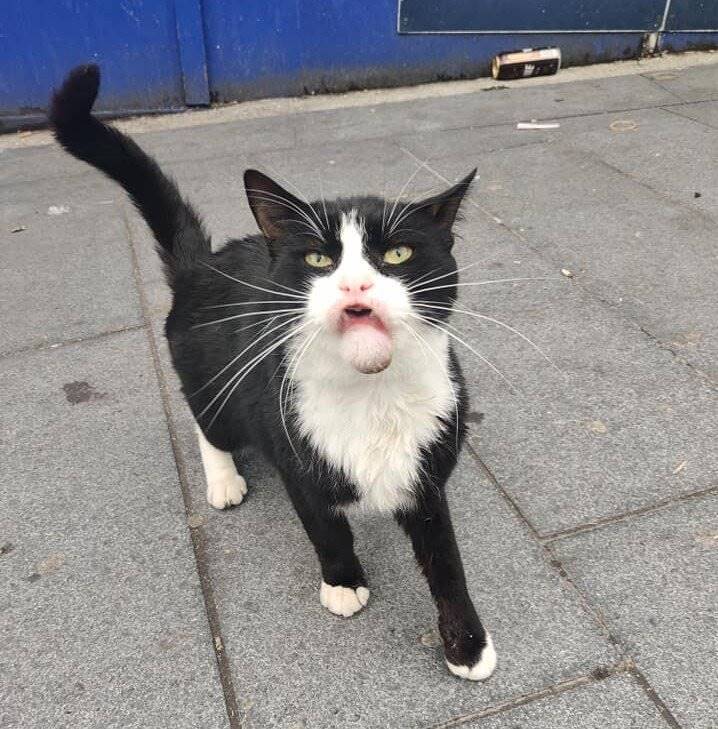 In July, a local woman was beginning her daily commute to work when she encountered a cat with an obvious facial deformity. She approached and was able to snap a picture of the friendly black and white cat, who had a large, bulbous growth of some kind protruding from his bottom jaw.
It being a busy urban area, the cat was then startled by some passers-by and she lost sight of him. Nevertheless, she was extremely worried about the his condition and initiated help straight away, posting on local groups, and contacting CatCuddles.
We were immediately concerned by the description of the growth, as the causes of such a swelling are numerous and potentially serious. Despite being at capacity in terms of fostering space at that time, we agreed to accept the cat into the charity's care ASAP and treat him at our new North London vet clinic.
Unfortunately, initial searches for the cat, by both the original finder and by CatCuddles volunteers, were unsuccessful, but in the ensuing day or so more was discovered about him. He belonged to a local business.
Unfortunately, in this particular area, we have previously encountered issues with businesses obtaining cats as a means of vermin control for their premises, but then failing to adequately meet their cats' needs or neuter them. In such instances, we have no legal powers to intervene, and can only offer advice, assistance with vet care, the option of rehoming, or otherwise pass details onto the RSPCA, who have marginally better legal recourse.
Thankfully, in the case of this sociable black and white boy, the owners agreed to surrender him to the charity so that he could receive full veterinary treatment for his facial swelling, and then go on to be rehomed.
At CatCuddles, the cat was given a new name – Hodge – and investigations were immediately made into the cause of his large growth. More good news followed when a biopsy revealed no cancerous cells – the worse-case scenario that our team had been dreading. Instead, it was discovered that the swelling was the result of a severe infection, caused by aggressive, deeply entrenched bacteria. He was immediately placed on antibiotics and surgery was scheduled to excise the lump, in hopes of banishing the nasty infection for good.
Hodge immediately became a hit with the CatCuddles' volunteer team. He is, quite simply, an incredibly lovely cat; sociable, outgoing and gentle. He also has a ferocious appetite and would keep eating as long as our volunteers continued to feed him!
In the ensuing weeks, Hodge's growth began to shrink daily as a result of the antibiotics, until all that remained was a small swelling. It soon became clear that the surgery would not be necessary – more good news for this sweet, gentle boy.
At present, Hodge's growth is now almost invisible, though some tissue may always remain. Not that Hodge seems to mind; he is happier and more outgoing than ever, pleased to interact with just about anybody despite his life being far from easy thus far. He is now looking for a place to call home permanently, somewhere with safe access to the outdoors via a cat flap, and with humans who can shower him with what he loves the most – attention, fuss, and treats – though not too many of the latter, please!
If you'd like to donate to help us help more cats just like Hodge please visit