Wild Buck Busts into Restaurant During Lunch Rush: 'Even the Deer Want to Eat Here'
A wild buck in Wisconsin was captured on video fawning over meatballs.
The deer crashed through a window at Noodles & Company in Beloit, Wisconsin, during Tuesday's lunch rush. The buck spent roughly a minute inside the pasta spot, checked out the kitchen, and eventually left through the back door of the restaurant as an employee held it open, according to local network .
Manager Patti Pickering told the outlet that 65 children were grabbing a meal at the fast-casual restaurant and quickly cleared out as the buck made his way around Noodles & Co.
"He came into the dining room, the kids had exited out the side doors, and he came through the kitchen and then out the back door," Pickering said, per WMTV.
Pickering described the deer as "pretty large" and told that she initially thought the "really loud crash" she heard was from one of the middle schoolers in the restaurant, who "must have dropped something, tipped something over." Then she saw the deer.
"He missed an entire pan of meatballs I had just pulled out of the oven; he could've had a snack," the manager said.
While Pickering said the experience was "scary," ultimately nobody was hurt. "When the kids started screaming, I knew it was my job to get everybody out and take care of everybody, so they got out safe," she told Fox 47.
"The food is so good even the deer want to eat here," she added.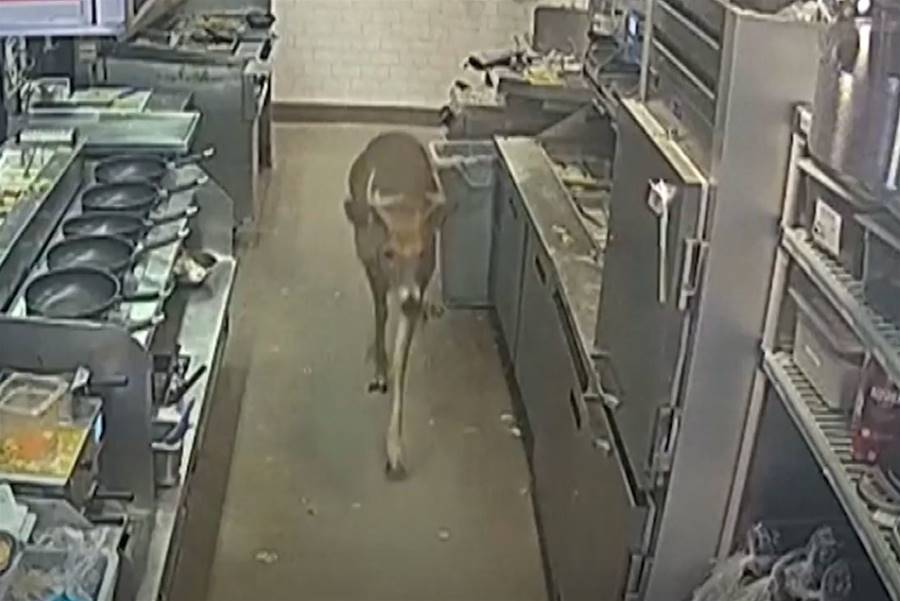 Footage from the incident shows the buck crashing through the window and darting down the middle of the location's seating area. In the clip, a child stands on a table to point at the animal in disbelief while others rush out the restaurant's side doors or stay to the side to avoid contact with the buck.
As WMTV noted, Noodles & Co. decided to have fun with the brief deer encounter. On Wednesday, the company offered a "2 Buck Mac & Cheese" special for customers to help them "save some doe," of course.
Never miss a story — sign up for to stay up-to-date on the best of what PEOPLE has to offer, from celebrity news to compelling human interest stories.
The pasta spot isn't the only odd place a deer has wound up this month. In mid-October, Alaska State Troopers found swimming in Southeast Alaska's Clarence Strait.
A YouTube video and Instagram clip shared by the troopers noted that the two animals were discovered four miles from shore.
A spokesperson for the Alaska State Troopers told the  at the time that the deer "ran into the side of the boat with their heads, indicating they wanted on board." The authorities drove the deer to land and later noted that the animals "trotted off into the trees" following their rescue.