Professional Good Girl Meets Her Favorite Disney Character And Melts In His Arms!
Noodle, a professional service dog, accompanies her owner, Jacklyn, everywhere to ensure her safety. Despite her constant vigilance, Noodle loves taking breaks to receive affection and pets from others. Recently, when Noodle visited Disney World, she had the opportunity to meet her favorite Disney character, Mickey Mouse. As soon as Noodle saw him, she melted in his arms, displaying her love and excitement.
Noodle was adopted by Jacklyn in 2020 during the lockdown, and as restrictions were lifted, she started accompanying her mom to various places, including Disney World. Although Noodle is always on duty, she still gets breaks to go on rides and meet characters.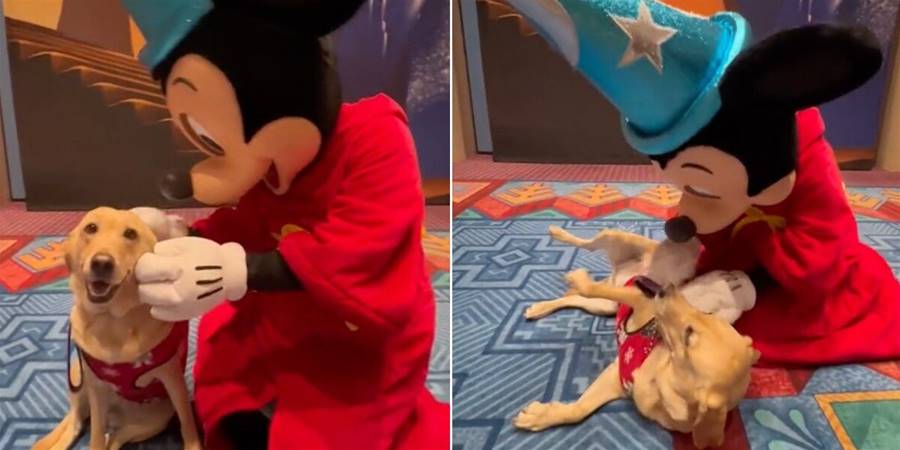 When she met Mickey Mouse, she eagerly requested belly rubs, and Mickey happily obliged. Even during her breaks, Noodle remains attentive to Jacklyn's health and would alert her in case of an emergency. Noodle's presence also serves as an educational opportunity for children to learn about service animals. After enjoying a few magical moments with her favorite character, Noodle resumes her role by Jacklyn's side, confident in keeping her safe. Despite her dedicated service, Noodle deserves all the happiness and experiences she can get because of everything she does for Jacklyn.