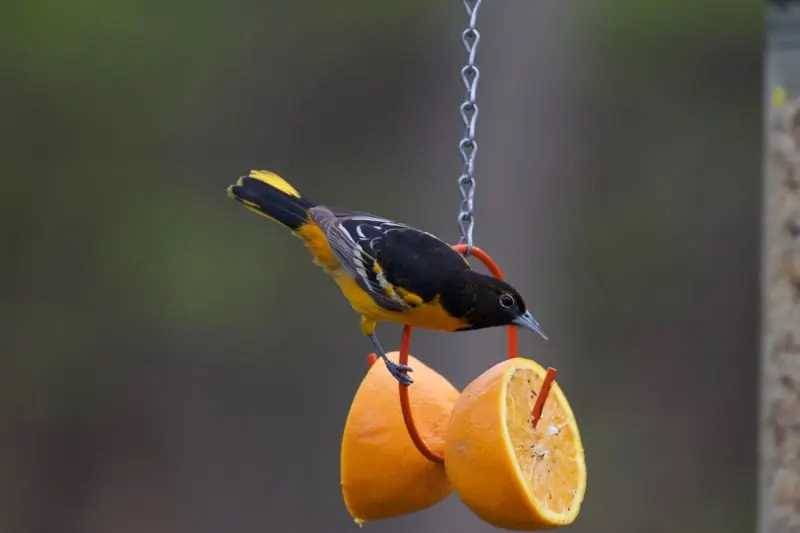 How to Attract Orioles
1. Offer sugary foods
Probably the best thing you can do to attract Orioles is to offer them the sugary foods they love in the springtime. The most popular foods to leave out to attract orioles to your backyard are grape jelly, oranges, and nectar.
Grape jelly: feed smooth grape jelly in a small dish, only leave out as much as can be eaten in a day and put out fresh jelly each day. This avoids spoiling and bacteria growth. Look for no sugar added and organic jelly when possible. Even healthier for the birds, chop up some grapes and offer those!Oranges: cut an orange in half, simple as that! Hang it from a pole, or even impale it on nearby tree branches. As long as it's visible to the birds and secure enough to stay put. Swap out the orange halves each day or two as they dry out quickly and will spoil and grow mold.Nectar: you can make your own nectar the same way you make hummingbird nectar, only with a lower sugar ratio of 1:6 (sugar:water) rather than the 1:4 ratio for hummingbirds. The nectar feeder for orioles will have to have a large perch and large size feeding holes to accommodate their beak size.Most oriole feeders have pegs for offering oranges and small cups for offering the jelly. This bright orange model is one of our favorites for orioles.