Incredible Story of Vincent the Bionic Kitten Walks for the First Time Thanks to Pair of New Legs
READ MORE
Vincent a three-year-old tabby cat is walking for the first time thanks to a pair of new prosthetic legs he received. Now this kitty is part titanium and 100% awesome.
Photo:
Vincent was surrendered to the in Nevada, Iowa, when he was a month old.
He had abnormality in both of his hind limps and was unable to walk. It's a very unusual case and they aren't sure what caused it. "Normally a cat like him that came into a shelter would not a have a future because his injuries are pretty staggering," Cindy Jones of the shelter says in a video via .
"I took one look at him, fell in love and took him home."
[Scroll down for video]
Photo:
His left hind leg couldn't bend at all. As he grew bigger, more weight was placed on his back legs which caused sores. The veterinarians at the had the idea to design implants that could be inserted into the femur bones of his legs.
The procedure is so rare that they estimate fewer than 25 animals in the world have ever had a similar surgery. "You do what you need to do to make your animal successful," Cindy says.
Photo:
"Vincent can't jump just yet, but it's probably only a matter of time," Dr. Mary Sarah Bergh says in a .
"His bones are looking great... The implants are stable. And he's walking really well on them so I couldn't be happier with how he's doing."
Watch the full story in this video:
"This does open up the door for us to be able to help other animals who have similar problems," Bergh says. "Even what we've learned just through Vincent's one case, we've actually refined the technique and the implants so the next cases we do moving forward will be even more successful."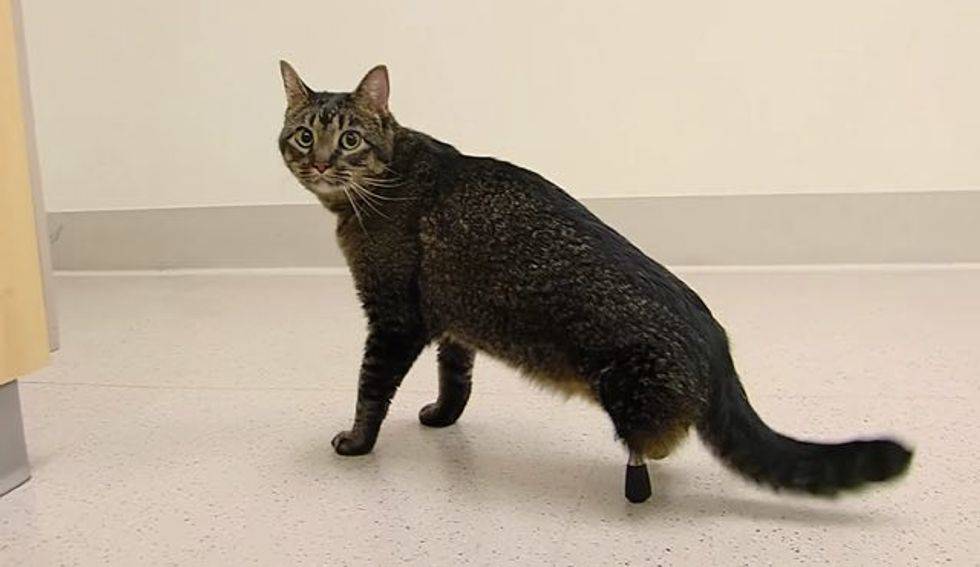 Share this incredible story of Vincent the bionic cat!